ELC Earns ExceleRate Illinois GOLD Circle of Quality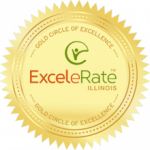 The Illinois State Board of Education has recognized the Early Learning Center's Preschool for All program by awarding the ELC a Gold Circle of Quality through ExceleRate Illinois.
ExceleRate Illinois is a statewide quality recognition and improvement system designed to make continuous quality improvement an ongoing priority for early learning programs. ExceleRate Illinois sets standards for helping young children develop across domains. For Preschool for All programs, evidence is collected during monitoring visits.  Monitors utilize the Early Childhood Environmental Ratings Scale Third Edition, along with the ISBE Compliance checklist, to gather evidence about a program and then score the program based on this data.
The Gold Circle of Quality recognizes programs that meet or exceed the highest quality goals. Gold Circle programs have met the highest quality standards in three areas:  learning environment and teaching quality; administrative standards; and training & education.  Programs are actively engaged in continuous quality improvement.
We are very proud of this distinction and the hard work and dedication of each and every staff member in helping us provide the best preschool programming for our students.
For more information about ExceleRate Illinois, CLICK HERE.